Since the summer I've been attending the Baker Street Irregular Astronomers' monthly star gazing sessions in Regents Park. When the weather is co-operating there can be as many as 20+ telescopes set up at the BSIA observing sessions and those without scopes are welcomed to look through the eyepieces of most of them. I also joined the Flamsteed Astronomy Society since they put on a number of interesting talks on astronomy, in addition to having observing meetups on Blackheath, and sessions in the 28″ refractor at the Royal Observatory Greenwich.
A few months ago I bought a Celestron NexStar 4GT telescope from a friend at work. Thus far my observing sessions with it have been restricted to the garden behind my flat in south west London. Now that I'm starting to be somewhat comfortable operating it, I've been thinking about how to bring it along to the BSIA or Flamsteed observing sessions. Celestron sell a hard case designed especially for their NexStar range but it costs a stupidly large amount of money – buying one would cost as much as I paid for the scope itself, so that was out of the question. There are also various 3rd party cases which would fit but they are still pretty expensive. Then I remembered that I had a heavy duty black holdall bag, bought about 14 years ago, stored away in the loft.
The size of the bag is almost a perfect fit for the 4″ NexStar, just requiring the addition of some good quality padding to protect things from any knocks during transit. Browsing the wares of Clas Ohlson I came across an extra thick foam camping mat for the bargain price of 8 quid. A few minutes with a pair of scissors produced one large piece and 2 smaller pieces.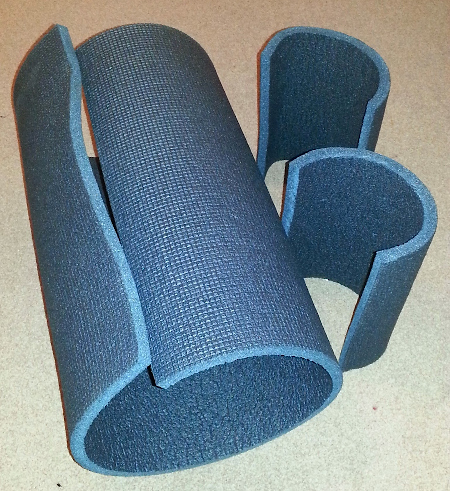 The large piece goes inside the bag length ways, such that it will wrap around the scope. The two smaller pieces are inserted at each end of the bag to protect the tip and base of the scope. It is a reasonably snug fit when the scope is inserted. This isn't going to be suitable for sending down the baggage shute at the airport, but is sufficient to transporting in a car, or even across London on the train/tube.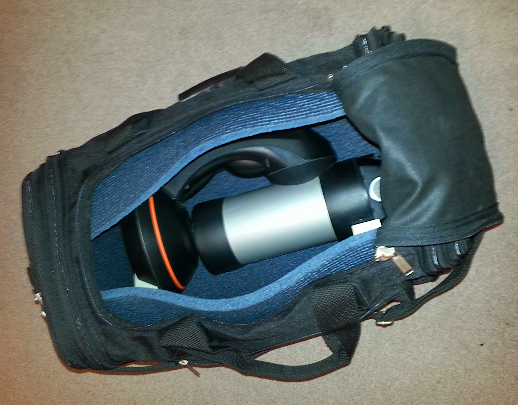 There was still a little over a third of the foam matt left-over at this point. A further piece was cut off to act as a make-shift dew shield and the left overs can be just stuffed into the bag around the tube as further protection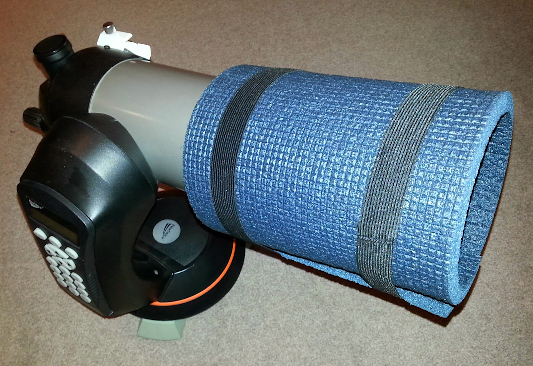 I've no idea exactly what I paid for the black holdall, all those years ago, but it was probably on the order of 40 quid. You can get a wide variety of suitable bags in Argos for less than this today. Add in 8 quid for the foam camping mat and we have a telescope carrying solution for less than 50 quid total. This comfortably beats any commercially sold cases that would fit this telescope and offers plenty of protection for the scenarios I'll be using it in.